contact agent
enquire now
About Goa
Goa is many things to different people. It is India's ultimate beach location through the year. It is a "coming of age" destination for friends on their first trip from college. But it is also the place where solo travellers feel the most secure. It is the mecca of wild parties and once-in-a-lifetime adventures. But it is also where couples on their honeymoon celebrate love and find the perfect setting for many memorable family holidays. Here, the weary unwind from work. Here, international travellers take their first tentative steps in their journey to find India.
Just like its myriad associations, Goa has many faces. If North Goa moves to the pulsating beat of vibrant parties and beaches, South Goa invites you to unwind in the idyllic languor of the sea. But the true charm of Goa in fact lies somewhere in between. Amidst these two extremes, most travellers soon discover their own pace in this destination with something for everyone.
Yet beyond the beaches and parties, it is easy to miss the hidden Goa, which shows itself only to the traveller with the discerning eye. The ancient home of the Kol, Mundari, and Kharvi tribes, Goa has also been a part of the great Maurya, Chalukya, Rashtrakuta, Kadamba, Yadava, Vijayanagar, and Bahmani empires. It was only later that Goa became the centre of Portuguese India for 450 years. It was also from here that the great Portuguese Empire held sway over the Indian Ocean. Together, these diverse influences make Goa the unique travel destination it remains today.
WHAT TO SEE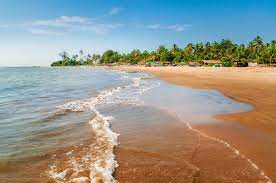 Beaches of Goa: While Goa is best known for the beaches dotting the northern part of the state, South Goa has much to offer too. But it is the North Goa beaches of Candolim, Calangute, Baga, Anjuna, and Vagator, which have for long captured the popular imagination. Yet, the lesser-known beaches of Palolem and Colva in South Goa have much to offer tourists as well. Elsewhere, the Miramar Beach in Panjim has the unique flavour of a beach within the city, more frequented by local Goans than tourists. Others like Donna Paula are accompanied by the legend of star-crossed lovers—the Viceroy's daughter Donna Paula and the Goan fisherman who won her heart. Goa's unique location also means that every little nook has its place by the sea and most resorts own a private beach. Many of them have not yet been put on the tourist map. So, adventurous hearts still have a chance of finding their own undiscovered place in the sun and the sand.
Our Tip: While exploring the beaches of North Goa, you will find that Candolim, Calangute, and Baga fall in a straight line. So, you could start at Candolim and end your walk in Baga. It's only Anjuna and Vagator that are further away. Vagator is the least explored and the most tranquil of the five beaches.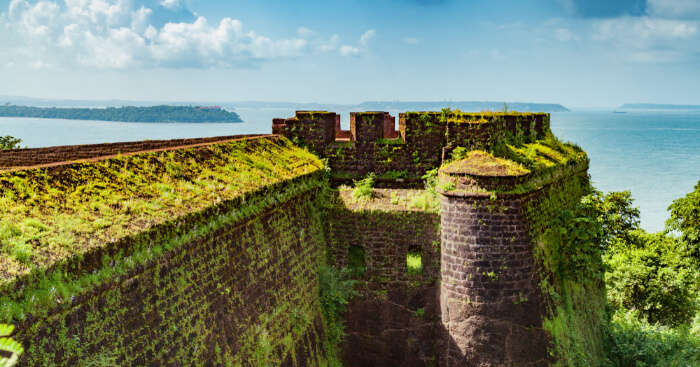 Forts of Goa: Dotting the state's beaches are the forts that offer many spectacular views. Without doubt, the best known among these are Chapora Fort and Aguada Fort. In particular, the film Dil Chahta Hai was shot at Chapora Fort, making a pilgrimage to this spot a necessary "coming of age" ritual for every young person in urban India.
Churches of Old Goa: The churches and convents of Old Goa are the most outstanding remnants of the Portuguese style of architecture in this part of the word and have been d a World Heritage Site. Built at a time when Old Goa was known as the Rome of the East, these monuments brought the baroque style of architecture to Asia. While the Basilica of Bom Jesus and the Church of St. Francis of Assisi are the best known of these structures, others like the Se Cathedral, which is among the largest cathedrals in Asia, have their significance too. Apart from their role in history, it is these convents and churches that bring a Mediterranean flavour to Old Goa and give it an old-world charm.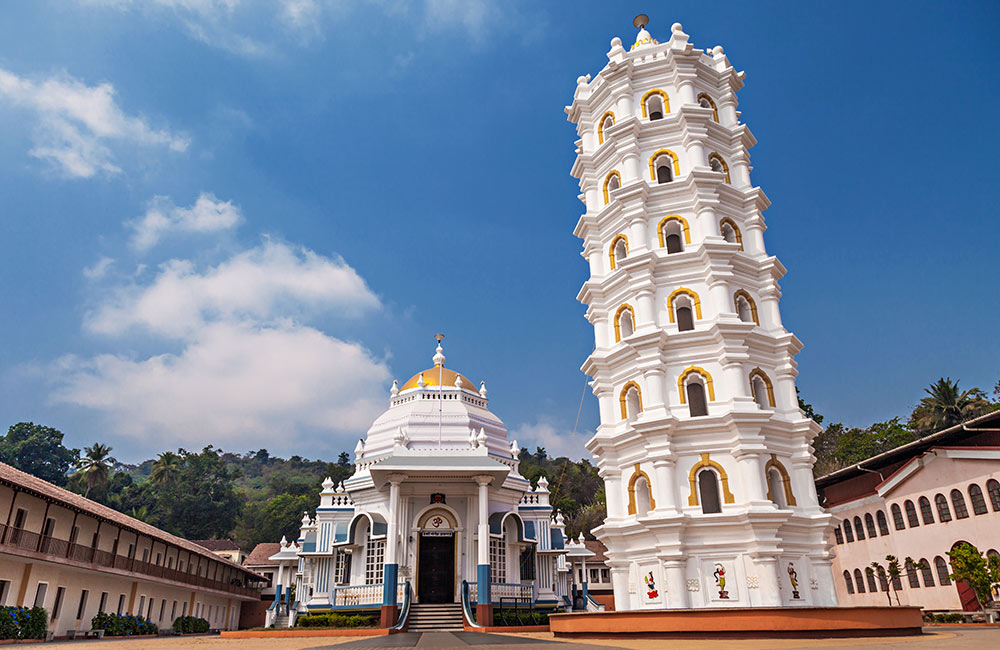 Temples of Goa: Standing shoulder to shoulder with its churches are Goa's temples. While each of these have a unique identity, the oldest among these dates back to the twelfth century, two hundred years before the Portuguese conquest. Built in the Kadamba style, the Mahadeva temple dedicated to Lord Shiva is made with the basalt stone so commonly found in the Aihole temples of the neighbouring state of Karnataka. While it is smaller than other larger modern Goan temples, it is believed to have stood the ravages of time and many invasions because of its remote location in a forest in the Western ghats.
Portuguese Villas: An unusual glimpse into the past also comes from a visit to Goa's now forgotten old Portuguese mansions. The best known among these is perhaps the Braganza House located in Goa's old capital of Chandor. The mansion, which was owned by a prominent Goan family, has a history that goes back 450 years. It has all the features of a princely building of the sixteenth century, including a ballroom. It continues to house a rare collection of antiques and one of the largest private libraries in Goa to this day.
Mario Miranda Museum: But in modern times, few have captured the idiosyncrasies of this state like its late well-loved cartoonist Mario Miranda. This museum, which is a tribute to his work, also gives you an insight into everything that makes Goa unique, all told in his inimitable style.
WHAT TO DO
Go paragliding: Goa's beaches offer you tons of water sports experiences at a reasonable price. But even if you are looking at a more specialized paragliding licence, Goa is the place for you to learn.
Enjoy the shacks: A unique part of the Goan experience is the innumerable shacks that dot its coastline. It's the best place to sit with a book, a drink, and a fish cooked in Goan style, and stare down into the calm glittering vastness of the Arabian Sea.
Cruise down the Mandovi: Thanks to its place by the ocean, it's easy to forget that Goa is blessed with many beautiful rivers, such as the breathtakingly magnificent Mandovi. A daytime or night-time cruise down the river, serenaded by a violist, is another unforgettable experience to be had once in a lifetime along Goa's tranquil coastline.
Take a history walk: You could also get away from the parties and beaches with a history walk down Goa's spectacular, sometimes bloody, but always fascinating history. Some of the best history walks centre around the city of Panjim or its old capital Chandor, where there are many old, forgotten stories waiting to be retold.
Hit the clubs and pubs: Goan fenny is one of the most popular drinks that you must try at least once when you are in Goa. Apart from that, one must also visit the clubs and pubs and tap their feet to the rhythmic and pulsating music played by India's best DJs. Tittos and Mambos are considered to be the oldest and best pubs in Goa and they attract a lot of party lovers.
Get tattooed: One can find a lot of tattoo artists as you take a walk around the beach. Some of them are brilliant and if you are planning to get a tattoo there can be no other place than Goa to get inked.

What to eat: Goan cuisine has been deeply influenced by over four hundred years of Portuguese rule. So, the fish, pork, and beef dishes you will find here are unique to this part of India. Port vine is also unique to the state. But if you plan to carry some back home, don't forget to carry a permit with you in case your luggage is inspected along the way. Most shops will give you one, if you simply ask for it. When it comes to sweet dishes, make sure to try Goa's beloved dodol and bebinca.
What to buy: Every Goan beach has its line-up of shacks, but the place to shop is the flea markets. While the Anjuna Flea Market was born of Goa's hippie tradition and has the best deals, the night markets are an experience not to be missed for their unique ambience.
Getting around: The best way to experience Goa is on a bike. You will find tons of small shops where you can hire a bike as soon as you enter the state. Just make sure you have your driving licence with you. However, you don't usually need to carry a helmet along, as most shops will provide you with one. Another option is to use the local bus transport system, which is basic, but reliable. Finally, you could hire a car. You really experience the magic of Goa when you explore it in your way, and at your own pace.
Where to stay: If you like the buzz of a great big party, North Goa is the place for you. But if you want to unwind, choose South Goa. Another unique experience is living in a heritage home. But if you are here for a longer stay, you could also rent a home in one of Goa's many gated communities.
The best time to visit: Traditionally, the best time to visit Goa is between November and March. However, Goa has its seasons. And a visit outside the peak tourist season is also a special experience. So, while there are the Goa enthusiasts who swear by New Year and the holiday season in Goa, there are those who also love to visit it in the monsoons.
How to get there: Goa is well connected to the rest of India by road, rail and air. However, if you have the time, a train ride to Goa can be an incredible experience. The Hubli-Madgaon Vasco da Gama route takes you past the famed Dudh Sagar falls. Another alternative is the equally scenic Konkan route.

show more

expand_more
Goa Rating & Reviews
Very Good
(1744 Ratings and 564 Reviews)
564 Reviews - Showing 1 to 5
People Also Visit

location_on
maharastra, india

location_on
maharastra, india

location_on
maharashtra, india
Similar Places Outside India