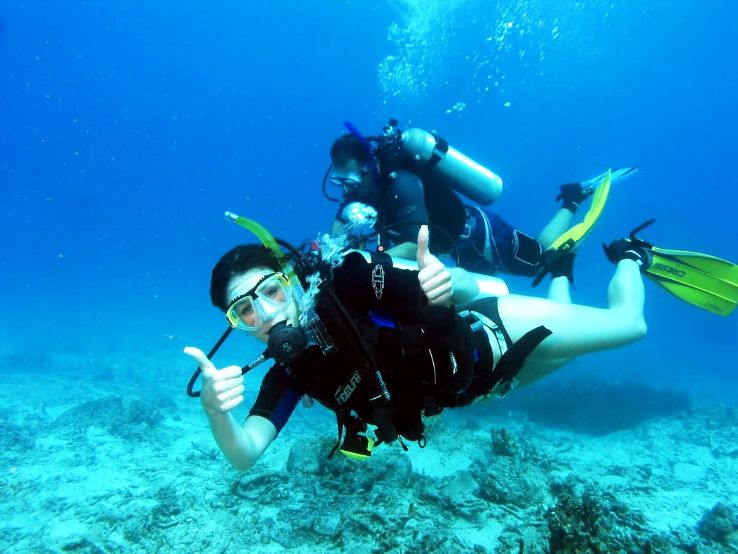 contact agent
enquire now
About Scuba Diving
If you are bored with all the common water sport then this – "Scuba diving" is for you!. One can do this activity in Goa and is a must water sport to undertake if you want to seek thrill and fear. Scuba diving in Goa is quite well equipped due to which it becomes easy to maneuver underwater world. By fine quality equipment, we mean the breathing set which contains an oxygen tank and a tube. This tube is attached to a mouthpiece which helps the person to breathe properly.
The Scuba diving at goa will give you a chance to get closer with the colorful marine life of the sea and watch them up close with this activity. If you are a noob and have no prior experience don't worry! The experienced divers will train you up in no time.The training at Goa scuba diving will include getting introduced with the equipment and making you get used to them in the water.
This Scuba diving activity training includes getting trained by the diving experts for an hour. The training will start with a short theory related to diving. Thereafter you will be taken out for a swim in a pool for better maneuvering. Hence all the basic stuff are taught to you in the pool and help you get used to the diving gear. After the training, you will be left to explore on your own!
show more

expand_more
Scuba Diving Rating & Reviews
Very Good
(12 Ratings and 4 Reviews)
4 Reviews - Showing 1 to 4
Similar Activities in Goa
Similar Activities in India
Similar Activities Outside India