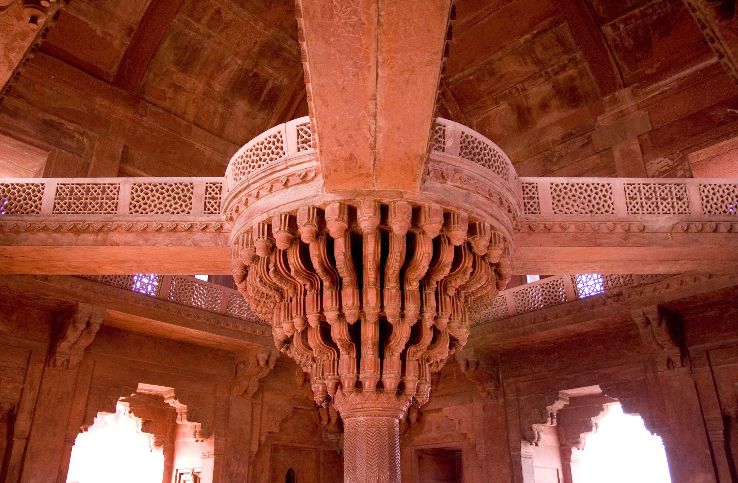 contact agent
enquire now
About Diwan-I-Khas
Arguably, one of the most prestigious monuments in Fatehpur Sikri, the Diwan-I-Khas in Fatehpur Sikri offers an excellent glimpse of the life in the Mughal court in Fatehpur Sikri. Resplendent in the elegance red sand stone which naturally comes to this ancient city, thanks to her rich association with the regality of the Mughals,
Tours To Fatehpur Sikri are considered to be definite must haves if you are planning a tour itinerary to Uttar Pradesh the prestigious list of the various Monuments Of Fatehpur Sikri is led by, perhaps, the Diwan-I-Khas, Fatehpur Sikri.
A silent witness to the grandeur of the great Mughals, a tour to the Diwan-I-Khas, Fatehpur Sikri is known for the elaborate carvings, which mark its interiors. Perhaps, the most prominent aspect of the interiors of the Diwan-I-Khas, Fatehpur Sikri is the stone column, which, to a large extent, probably bears some association to the rule of Emperor Akbar. The second most striking feature of the Fatehpur Sikri is the massive Lotus Pillar throne, which was probably the throne, where the emperor sat while holding court.
show more

expand_more
Fatehpur Sikri Tour Packages
Diwan-I-Khas Rating & Reviews
Excellent
(2 Ratings and 1 Reviews)
1 Reviews - Showing 1 to 1
Similar Activities in Uttar Pradesh
Similar Activities in India
Similar Activities Outside India