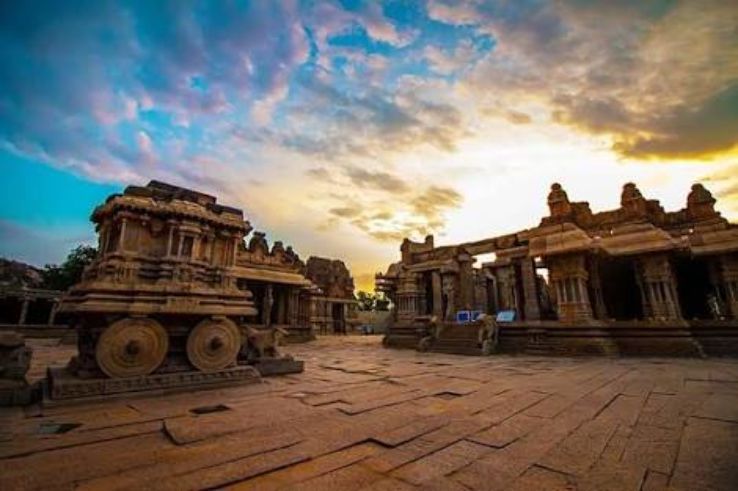 contact agent
enquire now
About Hampi
Hampi is a magnificent city of ruins, located besides the Tungabhadra river in the state of Karnataka. It is about 352 kms from Bangalore. A tour to Hampi can give you a vivid insight into the history. The numerous tourist attractions in Hampi are epitomes of artistic excellence and power of the then rulers of Hampi.
Hampi was known to be the capital of Vijayanagr, the renowned Kingdom from 14th to 16th century. It is enlisted in the world Heritage centers as it is the most wonderful city in India in terms of ruins. There are many major attractions in the city which come under two parts the Hampi bazaar part and the Royal center near Kamalpuram part.
The main attraction, however is the sites of ruins which one can explore and marvel at. Existing structures tell many stories about the glorious past of Vijayanagr Kingdom. One can climb up the Matangi hills on a tour to Hampi and visit the many temples belonging to the old period.
The Virupaksha temple, Achutaraya temple and Vithala temple are worth visiting. Many monuments such as Stone's chariot, Elephant stable, Balakrishna temple, Kings balance are notable in terms of majesty. They speak volumes about the history and culture of the Great Vijayanagr empire.
show more

expand_more
Hampi Rating & Reviews
Excellent
(486 Ratings and 3 Reviews)
3 Reviews - Showing 1 to 3
Trip Ideas of Hampi

&nbsp
Tales from the Hippie islands of Hampi
Hampi, the beautiful land of ruins is one of the dream destinations for a lot of us and it is certainly not an exaggeration when I say that this is one place which is almost on everyone's bucket list to be checked off without fail. Traveling to this place always ignites a sense of excitement in me and this time it was all the more as I had decided to cross the river to seek solitude from those touristy and crowded places. Traveling to Hampi in itself is quite a joyous moment for an architecture lover.
Similar Places in Karnataka
Similar Places Outside India