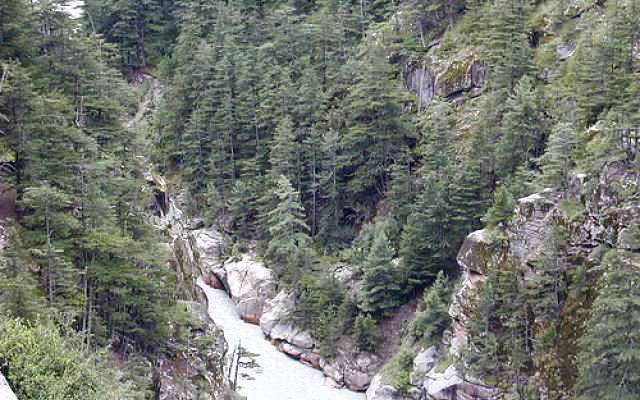 contact agent
enquire now
About Gangotri
Located in the district of Uttarkashi, Gangotri is one of the popular pilgrimages of the Char Dhams of Uttarakhand. Resting on the banks of the river Bhagirathi, this holy site is situated at an altitude of 3, 048 mts above the sea level. This place attracts both nature and adventure lovers, as it has difficult terrains and snow clad peaks for trekking & a picturesque view of peaks for photographers and poets. The holy place is of great importance amongst Hindus. One can visit the place anytime, from May when the weather is pleasant till the day of Diwali, after which the weather becomes really freezing with heavy snowfall. According to the mythology and sayings of legends, this is the place where Lord Shiva was sitting, when he took Ganga in his matted locks to save the earth from floodings.
Attractions for tourists
Gangotri Temple
This is one of the four dhams of Uttarakhand city, the highest temple of Goddess Ganga. With scenic beauty of Bhagirathi river and snow clad peaks, the temple was built by the Gurkha King, Amar Singh Thapa in the 18th century. Other than this, there is a Bhagirathi Shila and the Submerged Shivling of Gangotri with natural existence. These can be spotted by tourists only in the winter season when there is a low level of water in the river. Besides this, the place also offers the opportunity to visit Ekadash Rudra Temple and Gyaneshwar Temple.
Bhairon Ghati
This ghati is very famous for its bridge, that is acclaimed to be one of the Asia's biggest bridges Approx100Ft Deep over Bhagirathi. Lies near the confluence of Bhagirathi river and Jat Ganga, this place is 10kms away from Gangotri. Tourists can visit the temple of Bhairav Nath, surrounded by dense forest, by road from Lanka to Bhairon Ghati or on foot by crossing the Jahanvi river.
Gaumukh Glacier
Situated 18 kms away from Gangotri, Gaumukh Glacier is the source of the Bhagirathi river. This glacier got its name after its resemblance with the cow's face "Gau" cow & "Mukh" face . After Siachen, this is the second largest glacier of India with 30 kms of length and 4kms of width. At a distance of 14 kms from Gangotri, there is a Bungalow at Bhojbasa for a stay.

Trekking
Gangotri trek is the best option for adventure lovers who want to encounter rock- climbing, glacier- traversing and boulder- hopping. The best time to trek in this range is from February to November. The trekkers get a chance to witness dense deodar & pine forests at Chirbases, fascinating scenery from Gaumukh, tapovan with the streams of blooming flowers and at the end, the panoramic view over Shivling, Meru 6660m and the Bhaghirathi.
show more

expand_more
Gangotri Rating & Reviews
Excellent
(730 Ratings and 3 Reviews)
3 Reviews - Showing 1 to 3
Similar Places in Uttarakhand
Similar Places Outside India