contact agent
enquire now
About Leh
When you fly into Leh airport, you are not surrounded by clouds. Instead, you are enveloped by the mountains. Snow-covered peaks rise to meet you. As you glide on the clouds, bordered by the mountains, you feel as if you have been transported to another world.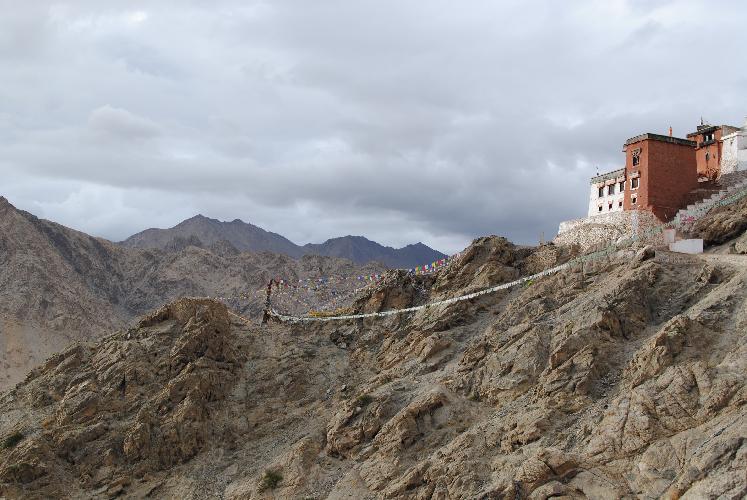 A place like no other, Leh, is surrounded by the mighty Karakoram range and the great Himalayas. The city's old brick houses, Buddhist gompas, and souvenir shops all add to its quaint charm. As the joint capital of Ladakh and its largest city, the town is the first stop for all travellers, hikers, and bikers who are drawn to Ladakh's vast unexplored mountainous wilderness.
More than any other city, Leh has grown to be synonymous with Ladakh. Yet, when you come to Leh you do not only come to the mountains. It is here that you encounter Ladakh's rich culture, history and traditions… And most importantly its people.
WHAT TO SEE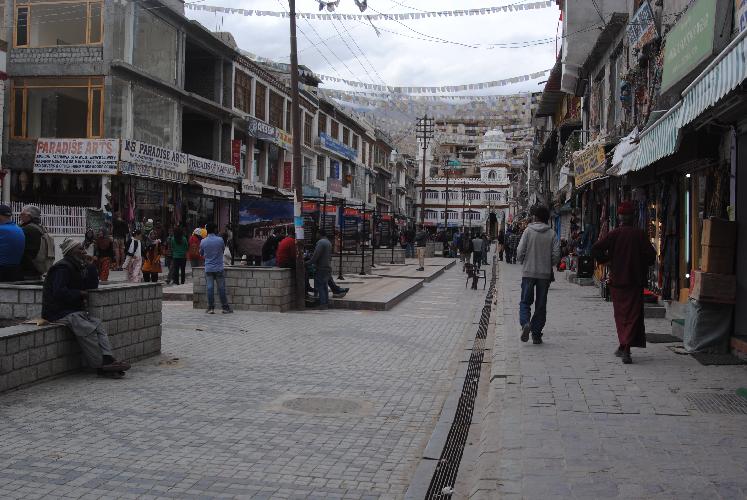 Leh Bazaar: At the heart of Leh is the Leh Bazaar. It is the soul of this sleepy town. Here's where you taste authentic Ladakhi and sample its handicrafts. But most importantly, it's a chance to meet the simple, cheerful people of Ladakh's biggest town.
Jama Masjid: At the Leh Bazaar you cannot miss the town's main mosque, which towers over the rest over the rest of the market. The mosque was built over three hundred years ago as part of an agreement reached between the Ruler of Ladakh, Deldan Namgyal and the Mughal ruler Emperor Aurangzeb. While the Mughal Empire protected the kingdom, Deldan Namgyal both paid Emperor Aurangzeb a fee and built Ladakh's most famous mosque.
Leh Palace: This seventeenth-century palace built by King Sengge Namgyal faces the Himalayan ranges of Stok Kangri and Zanskar and looks down over the entire Leh town. It is truly a view of Leh unlike any other. Even though the palace was ruined during the Kashmiri invasion, its architecture, old paintings, and many other royal artifacts continue to make it a tourist attraction. It is currently managed by the Archaeological Department of India, which has converted it into a museum and is currently working on restoring the structure. Just above the Leh Palace, you can also visit the Victory Tower, which was built to mark the kingdom's victory over the Balti Kashmiri forces in the sixteenth century.
Our tip: It is indeed a steep climb to the top but having seen a view of Leh from the top, we know it's effort well spent.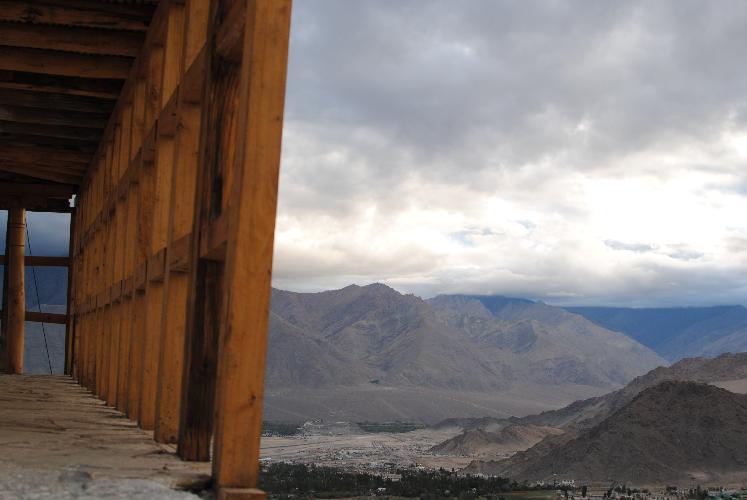 Namgyal Tsemo Gompa: Among Leh's most revered monasteries, the Namgyal Tsemo Gompa was built by King Tashi Namgyal of Ladakh. Besides its ancient manuscripts and frescoes, the monastery is also recognised by its three-storey high golden statue of the Maitreya Buddha.
Shanti Stupa: This magnificent white dome-like structure stands tall on top of Chamspa hill. Travellers visit it not only for its architecture and religious significance but also for its spectacular view. A more modern structure, it was constructed by a Japanese Buddhist Bhikshu Gyomo Nakamura when Buddhism completed 2500 years of existence in 1991 and continues to be run by the Ladakhi monks. It is considered as a symbol of peace and is also a part of the Peace Pagoda mission, which strives to spread peace through the Buddha's teachings. The stupa appears to go a level higher on full moon nights.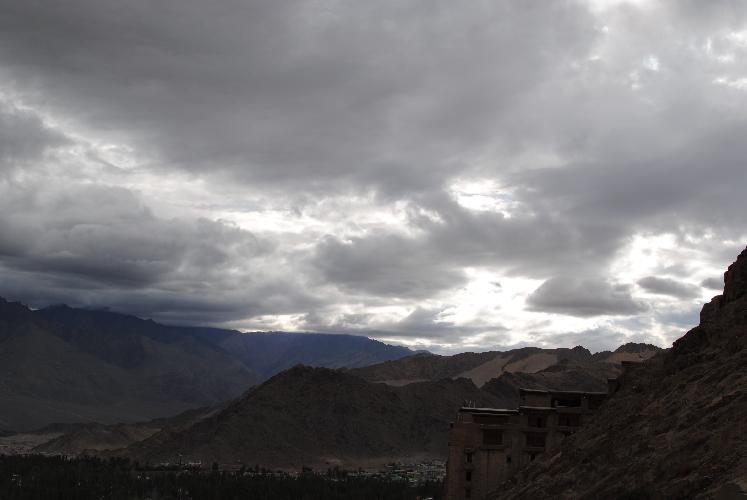 Zorawar Fort: A historical structure that has almost fallen off the tourist map, the Zorawar Fort was built by Wazir Zorawar Singh under the reign of Maharaja Gulab Singh of the Dogra dynasty. It served to both protect Ladakh from Chinese invasions and protect the wealth of the Dogra kings.
SEMCOL: A more recent entrant to this ancient hill kingdom, SEMCOL was established in 1988 to reform Ladakh's educational system. Its eco-friendly campus is known to pioneer new "green" ways of living and also organises tours of the campus for travellers who want to explore an alternative way of living. The founder of SEMCOL is Sonam Wangchuk, whose work was first presented in the movie 3 Idiots.
Our tip: SEMCOL is open to visitors between Monday and Friday. Visitors can have a tour of the campus between 10 am and 12 noon in Summer and between 11 am and 1 pm in Winter.
War Memorial: When visiting Leh, you could also stop at the War Memorial, off the Leh-Srinagar Highway to visit the War Memorial and museum commemorating India's vistory in the 1999 Kargil War. The museum also documents India's continuous history of conflict with Pakistan in this region.
WHAT TO DO:
What to eat: Leh is a great place to try Ladakh's legendary combination of thupka, momos and tingmo. Thupka is a Ladakhi clearsoup, momos are dumplings with a meat or vegetable filling, and Tingmo or Timok is steamed Tibetan bread served with vegetables and meat.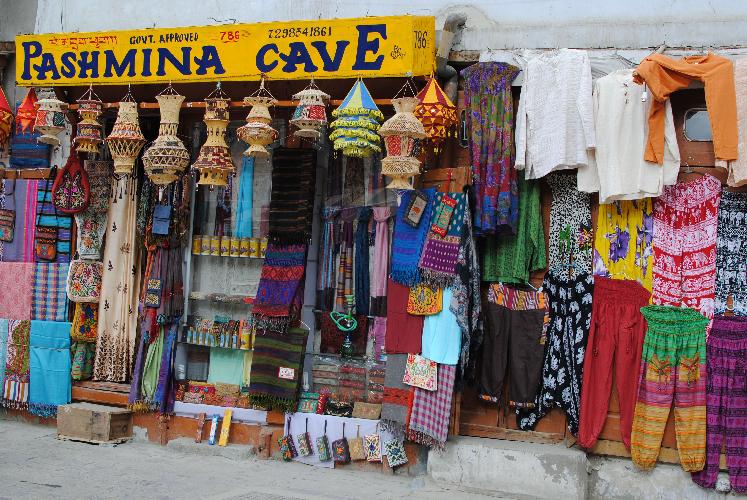 What to buy: The Leh Bazaar is a great place to buy prayer bells, paintings of Buddhist motifs on silk, and Kashmiri handicrafts. Pashmina shawls from Ladakh are especially highly valued. Many travellers also carry back the prayer flags so commonly found in its mountains, as nothing represents the deep spirituality of Ladakh, the land of high passes better.
Our tip: Don't miss the apricots and apples at the Leh Bazaar. They are delicious takeaways! Also try the traditional Ladakhi bread at the Leh Market.
Getting around: Most places within Leh are accessible by foot. But the land here always slopes steeply, so it will challenge your fitness. But when you are travelling outside Leh, you will need to hire your own vehicle. This usually needs to be a jeep suited for travel in Ladakh's mountainous terrain.
Where to stay: Ladakh has scores of hospitable homestays. Make sure you find one that is not more than 10 minutes away from the Leh Bazaar. This should make all of Leh accessible on foot.
The best time to visit: The best time to visit Ladakh is between the summer months of May and November.
How to get there: Ladakh is connected to the rest of India by road and air. Both the roads to Leh from Himachal Pradesh and Srinagar are amongst the most scenic routes you will experience in India and are immensely popular with tourists.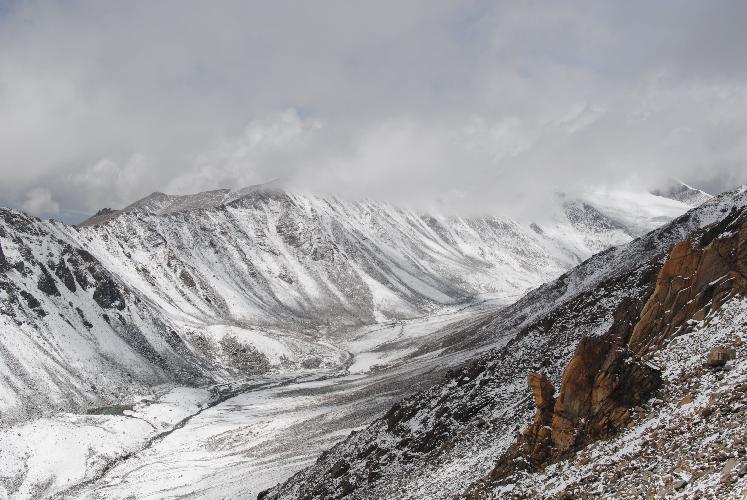 Our tip: While the scenic road routes to Leh are known, not enough has been said about sighting Leh in the air when you are on a flight. It is truly a once-in-a-lifetime experience.
Content and photo credit: Christina Daniels
show more

expand_more
Leh Rating & Reviews
Very Good
(300 Ratings and 77 Reviews)
77 Reviews - Showing 1 to 5
People Also Visit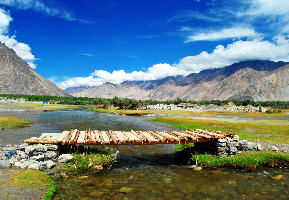 location_on
jammu and kashmir, india
Similar Places Outside India