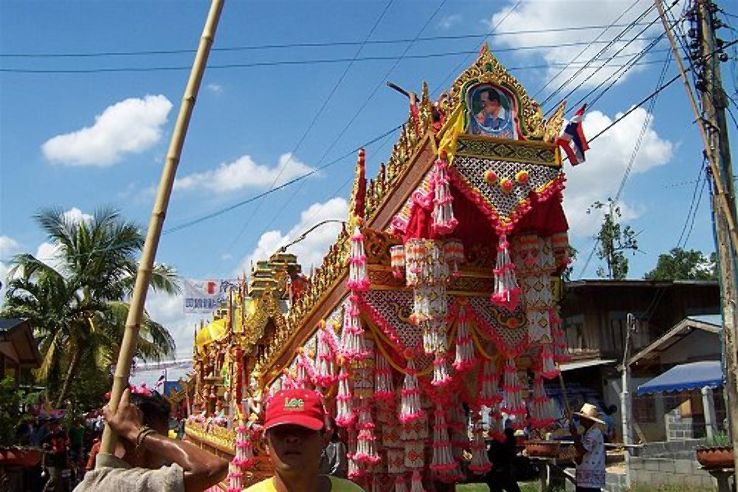 2
Bun Bang Fai Rocket Festival
About Bun Bang Fai Rocket Festival
Known in Thai as 'Bun Bang Fai', this rocket festival is an ancient local festival that has been carried out continuously till modern times. Bun Bang Fai Rocket Festival is popularly celebrated in Yasothon, a province in Thailand's northeast. The Bun Bang Fai Rocket Festival is associated with traditional beliefs in the supernatural powers that help promote the production of rice crops for the coming planting season.

Like several other Thai festivals, Buddhist monks would be in attendance for the ceremony. The rockets, launch platforms and other decorations for this event are prepared for several weeks before the actual event. An average rocket is some nine metres in length and carries 20-25 kilograms of gunpowder.

On The Bun Bang Fai Rocket Festival day, rockets are paraded to the launch site. Villagers dress in colorful traditional costumes, playing, teasing and dancing, to accompany the procession. The climax of the festival is the launch time. The rockets are fired from their launch platforms one by one.

Giant home made modes of rockets are launched as a symbol and gesture to God for the sake of good rainy season. In addition to the rockets' launching, street parades, street theaters, performances of folklore bands and a beauty queen contest take place. Bun Bang Fai Rocket Festival is an unforgettable authentic experience for all the participants.
Find other events in Thailand
Trip Ideas of Yasothon
Questions & Answers for Bun Bang Fai Rocket Festival 2019
50 Lacs+
HAPPY TRAVELLERS