9 Must-See Tourist Places in Kerala
26 Nov 2022 03:53 PM

Kerala the 'God's Own Country' has spectacular tourist places to visit in Kerala, and with an abundance of nature and backwaters. Tourists from around the world visit Kerala to explore natural beauty as there are hill-stations, backwaters, commercial cities, hamlets, and much more to explore. The backwaters of Kerala and the hills stations like Munnar and Vagamon are popular tourist retreats. The best time to visit Kerala is during the winters and these are some of the best destinations in Kerala which you shouldn't miss.
For best packages:
Call:08048736040
Chat with agent
Enquire for package
Munnar is one of the best tourist places to visit in Kerala, popular for its tea estates and lush green beauty is located in the Western Ghats, in the state of Kerala. It also serves as the commercial center for some of the world's largest tea estates. Not just that, Munnar has many protected areas, which are home to endemic and highly endangered species like the Nilgiri Thar and the Neelakurinji The flower that blooms once in 12 years. Therefore if you are in Munnar don't forget to explore popular tourist attractions such as Tata Museum, Blossom Park, Indo Swiss Dairy Farm, Kundala Lake, Lockhart Gap, Pothamedu ViewPoint, Life of Pi Church, Attukal Waterfalls, Cheeyappara Waterfalls, and Eravikulam National Park.
For best packages:
Call: 08048736040
2. Thekkady
Periyar National Park is one of the major attraction of Thekkady in Kerala, makes it the most happening tourist places to visit in Kerala. It offers numerous things to do in Thekkady such as bamboo rafting, hiking, shopping and trying out delectable food of Kerala. One can also enjoy the night trek in the wilderness of the Periyar or can experience the early morning boat ride in the Periyar National Park, where you might get to spot wild elephants, bison, wild boars, various kinds of birds. Not just limited to that these are the popular tourist attractions in Thekkady, which everyone must explore Periyar Tiger Trail, Mudra Cultural Centre, Vandiperiyar, Kadathanadan Kalari Centre, Elephant Junction, Deepa World Spice and Ayurvedic Garden, Kumily, Ramakkalmedu, Mullaperiyar Dam, Chellarkovil, Murikkady, and Vandanmedu.

3. Wayanad
Wayanad means paddy fields in Malayalam, is one of the prettiest areas of Kerala, which offers myriads of tourist places to visit in Kerala. As Wayanad is located on the border of Tamil Nadu and Kerala, it is also a part of forest reserve. The paradise for nature lovers in Wayanad one can enjoy the most amazing views, lush-green nature, and wildlife all around them. Whereas some of the popular tourist attractions in Wayanad are Chembra Peak, Meenmutty Falls, Edakkal Caves, Muthanga and Tholpetty Wildlife Sanctuaries, Kalpetta, Pookot Lake, Pakshipathalam, Lakkidi, Sulthan Bathery, Banasura Sagar Dam and Neelimala viewpoint.

4. Varkala
Varkala also was known as a hidden treasure of Kerala, which is located in the Trivandrum region of Kerala is a popular tourist place to visit. One can experience the freshness in the air, untouched beaches, springs and fisheries here. Not just that forts, cliffs and lakes makes it even more beautiful and attracts tourists from around the world. The popular tourist attractions here are Varkala Beach, Janardhan Temple, Sivagiri Mutt and Kappil Lake.

For best packages:
Call: 08048736040
5. Alappuzha Backwaters
Alappuzha is an alluring town with mesmerizing lakes, lagoons, and numerous freshwater rivers. Also referred to as Venice of the East, Alappuzha backwaters are the best tourist places to visit in Kerala. The home to diverse wildlife and rich agriculture makes Alappuzha more attractive. Kuttanad, in the heart of the backwaters of Alappuzha, owing to its richness of paddy crops, is referred to as the rice bowl of Kerala. Some of the popular attractions in Alappuzha are Statue of Karumadikuttan, Mannarasala Sri Nagaraja Temple and Revi Karuna Karan RKK Memorial Museum.
6. Eranakulam/Kochi
Ernakulam district is considered to be as the urban face of God's Own Country, Kerala also a cultural, political and industrial hub of Kerala. Ernakulam is one of the popular tourist places to visit in Kerala, those who wish to explore luxurious malls and swanky gold shops. There are myriad of restaurants and majestic skyscrapers with the metropolis Kochi at its heart. The popular tourist attractions to explore in Ernakulam are Jewish Synagogue, Cherai Beach, Marine Drive, Santa Cruz Cathedral Basilica, Fort Kochi & Chinese Fishing Nets, Mattancherry Palace, Kodanad Elephant Sanctuary, Ezhattumugham Nature Village and Athirappally Falls.

7. Vagamon
Vagamon is a hill station located in Kottayam- Idukki border of Kerala, the cool climate and low temperature make it a most favored tourist places to visit in Kerala, those who are looking forward to spending their holidays in a hill station in the south then this is the place to be. Vagamon is a tiny plantation township in Central Travancore, with the never-ending lining of lush green hills and breathtaking views. Some of the popular tourist attractions in Vagamon are Thangal Hill, Murugan Hill, and Kurisumala.
8. Kovalam
Kovalam is a popular tourist place to visit in Kerala, due to three adjacent crescent beaches and it has been a favorite tourist spot since the 1930s. The Kovalam beach is an ideal for bathing and enjoying the scenic views. The leisure options at this beach are plenty and diverse. Herbal body toning massages, sunbathing, swimming, special cultural programmes, and catamaran cruising are some of them. Also, some of the popular tourist attractions in Kovalam are Lighthouse Beach, Hawah Beach and Samudra Beach.

9. Kozhikode
Kozhikode will always be known for its special place in the history of Kerala that Vasco-da-Gama first landed here and the legendary spice route came into existence. The rustic and historical charm of the city is what makes it one of the tourist places to visit in Kerala. Famous for a beautiful sunset on the Kozhikode beach and authentic Malabar cuisine, Kozhikode is a must-visit destination.
Some of the popular tourist destinations to explore in Kozhikode are Kozhikode beach, Beach Road, Mananchira Square, the Mother of God Cathedral, Planetarium, and a Science Centre and Pazhassiraja Museum and Art Gallery and the Tali Temple.
Book your Kerala tour packages at best price with HelloTravel.com & get exciting deals on Kerala vacation.
Author Bio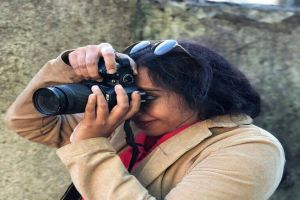 Christina Daniels
Story teller, backpacker, shutterbug
Christina Daniels is a storyteller, cinema writer, backpacker and photographer. She is also the author of the bestselling book "I'll Do It My Way: The Incredible Journey of Aamir Khan." A traveler who has journeyed across four continents, Christina is also the host of an Airbnb experience in Bangalore.