contact agent
enquire now
About Nagaland
One among the seven sister states, Nagaland is the heart of India's unexplored north-east. The state is a confluence of culture and nature. Set against a mesmerizing backdrop of the eastern mountains, the landscape is a wonderful mix of forests, lakes, rivers and valleys.
The tribal culture of Nagaland is the most unique feature of the state. The head-hunting tribes of Nagas have been the subject of wonder for a lot of us. The many tribal festivals of Nagaland are a treat to the eyes with their colorful costumes, the dancing and lyrical songs. Nagaland's Horn Bill Festival is a famous tourist attraction. It is held from 1st to 10th December every year. Nagaland is one of the most colorful states of India.
Nagaland's wild untouched landscape is perfect for the adventure lovers. The hilly terrain offers opportunities for trekking, rock climbing, and camping. The forests of Nagaland are rich in flora and fauna. The state is also home to the famous bhut jolokia or ghost pepper, one of the hottest chillies in the world. The local cuisine is unique in itself and a must-try for visitors.
show more

expand_more
Places to visit in Nagaland
Nagaland Rating & Reviews
Trip Ideas of Nagaland

&nbsp
Did You Know About the Moatsu Festival in Nagaland?
India is a land of cultural diversity and the north-eastern part of India is no different from the mainland. There are many religions, castes and tribes in this part of the country who also celebrate many local festivals within communities. One such traditional event is the Moatsu Festival of Nagaland. It is celebrated by the Ao tribes of the state after sowing of seeds in the fields. The tribesmen celebrate this festival with much pomp and gaiety after decorating their homes. There are certain aspects of this festival that is not very well known among the masses. Hence, we present here the insights regarding this festival so that people can be well aware of the celebration.
Similar Places in Nagaland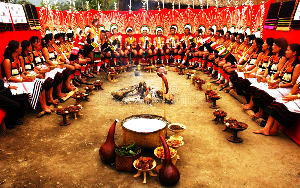 location_on
nagaland, india
Similar Places Outside India