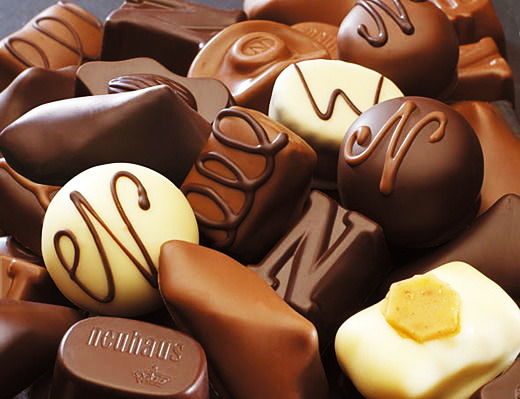 It is really hard to imagine a world without chocolates.Chocolates are something which really arouses the baby syndrome within us. How astonishing? Neither this is a food item nor an appetizer albeit something a bite of which could carry you off your feet and what remains is the desire for more and more. Once the delectable desire of royals is now the everyday satiable palate of the common man
Brussels
is home to the Mus?e du Cacao et du Chocolat (Museum of Cocoa and Chocolate). Located in the famed Grand Place of the capital, this museum is a one stop destination for all that you need to know about chocolates be it the origin, the process of making or the different types. After educating yourself with these yummy informations, its time to loose resistance and commit the ultimate sin of submitting to the seduction of these aphrodisiac creations (don't ignore the pun!). Chocolate hubs in Brussels:
Godiva
: Another chocolate haven, Godiva also commands the attention of the tourists and the locals alike. Their preparation is a well kept mystery and the seasonal and designer boxes add the aesthetic touch to the mouth watering content.
Pierre Marcolini
: Start with the most renowned name in this arena with a bundle of awards that recognizes its glorious contribution towards chocolate making. The trade mark of Marcolini is the out of the box ideas that helps it in coming out with a all new brand of posh chocolates every year. Further if you are keen on the modern representation of classic chocolates, Pierre Marcolini is the 'it' destination. With a service that makes you feel special and a signature packaging, Marcolini is undoubtedly a fine specimen of wonderful chocolate making.
Neuhaus
: One of the best places to taste chocolate in the capital, Neuhaus is a preferred place if you want to check out some hand-made Caprices which are made of crispy nougat, fresh cream and soft-centred chocolate. And this is one of the 80 different varieties of pralines that Neuhaus specialize in! For the records, Neuhaus has a Royal Warrant making it a regular supplier of chocolate to the royal court of Belgium; so you are going to taste royalty in its most sleek form.
Jacques chocolate Museum:
One of the famous chocolate hubs is the Jacques Chocolate Museum founded in 1896. The purpose of the museum is to let people know the process of chocolate making.
L?onidas
: This chocolate shop is reasonably economical with a wide variety of pralines, truffles, orange peel, and marzipan. The selling point of L?onidas chocolates is the quality aspect. They use cocoa butter in their chocolates rather than any vegetable fat along with fresh cream.
Chocolatier Goossens :
Goossens is a household names in the Belgium Chocolate industry. Goosens Chocolates are consider unique due to the signature quality being used in making chocolates. (site reference:http://goossens-chocolatier.be/) The city of Brussels is a treat to eyes with a bunch of enchanting monuments and structures. But unlike many modern capitals, the chocolate tourism is something that Brussels cultivate and encourage. The taste is there, aroma is there and so are your heart and soul (as mentioned before, chocolate is not meant for our bellies!). Well, have you just found another reason to visit Brussels?