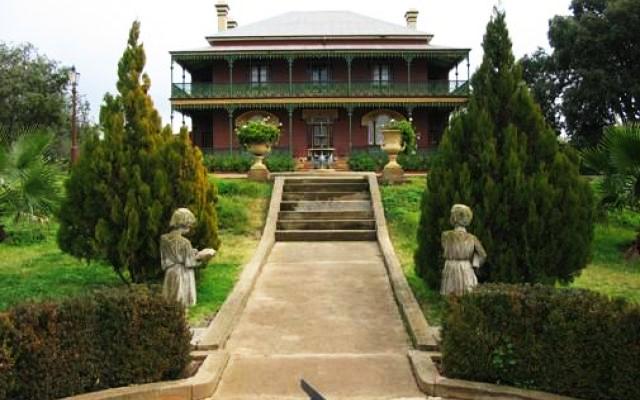 Monte Cristo
contact agent
enquire now
About Monte Cristo
Monte Cristo means Mount of Christ and is located in Junee, New South Wales, Australia. It was built in 1884 by Christopher William Crawley, a local wealthy farmer. He was married to Elizabeth, a hard and ruthless woman who was rumoured to have ruled the household with an iron fist. Monte Cristo is one of the most haunted places in the world. Monte Cristo has been plagued by many horrific incidents and deaths over the years. The house and grounds are reported to have seven ghostly residents, although there could be more. Not surprisingly, the homestead is known as 'Australia's Most Haunted House'.

Christopher Crawley died at Monte Cristo on December 14, 1910, at the age of sixty-nine from heart failure due to a gangrenous abscess on his neck developed from constant rubbing of his starched collars. After the death of her husband, Elizabeth converted an upstairs box room into a chapel and retreated into deep mourning. She is reputed to have left the homestead only twice in the twenty-three years between her husband's death and her own death, from a ruptured appendix, on August 12,1933, at age ninety-two. She is often seen in the converted chapel , dressed in black and carrying a large silver cross. Her ghost has been known to order people out of the Dining Room and her presence is felt when a room suddenly becomes icy cold. Her presence is very domineering and she is very particular to what happens in the house.In 1948, the last of the Crawleys left the homestead, and Monte Cristo fell into disrepair. In 1963 Reginald Ryan, a tailor from Wagga Wagga, his wife, Olive, and their three children moved into Monte Cristo and he restored the house to its former glory.

Over the years , the mansion has been rife with sightings of ghosts and appalling incidents and horrific deaths. A maid fell from the balcony which led to her subsequent death, the blood stained steps were cleaned and to this day, you can still see the discolouration from the bleach. A woman died in one of the beds while giving birth and a maid dropped a little girl down the stairs and the girl died later on. The maid claimed that an unseen force had supposedly pushed her. Kids are reported to be unruly around the stairs. Even though the entire house is carpeted, footsteps have been heard as though walking on a wooded flooring. Amongst the horrific events that happened there, include a stable boy being burnt to death, a mentally retarded son of a housekeeper was kept chained for almost 30 years and the care taker of Monte Cristo was shot dead by a local boy inspired by Alfred Hitchcock's Psycho. He then etched the words "DIE JACK HA HA" on the wooden door, a macabre inscription that can still be seen to this day.

Monte Cristo has been visited over the years by many paranormal investigators and has been shown on various television shows. It is definitely worth a visit to experience the supernatural, a haunted place of its kind.
show more

expand_more