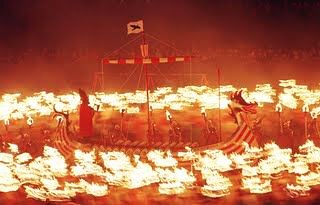 Festivals are something which have always accelerated our excitement level. Frankly speaking festivals are waited for days and months together to be celebrated in the most vibrant way ever dreamt of. These festivals are special because they ignite the sleepy spirits lying dormant in a person.
El Colacho: the Baby-Jumping Festival(Spain)
Ever harbored a secret desire to jump over a baby? Then fear not, for here your wish gets accomplished. In the Spanish village of Castrillo de Murcia near Burgos, grown up men leap over newborns, on the streets in a time-honored ritual that forms part of the local Corpus Christi celebrations. Enrobed in scary costumes and brandishing whips and batons, the men attempt to "cleanse" the babies of evil. Although it's origins lies hazy, the ritual of El Colacho can be traced back to 1620 A.D.
Donga Fight (Ethiopia)
A mortal would be bewildered and awestruck witnessing this weird festival of the Surma tribe in Ethiopia. This is an after harvest festival where the Surma men assemble and fight violently with sticks and batons going very hard called donga. It's a true test of stamina and brute strength, the Donga is fought to prove one's masculinity, revenge for personal grudges, and most importantly they are one of the best ways in Ethiopia to win wives. So, Folks get ready for the excitement!
Up Helly-Aa, Shetland Island,(Scotland)
Now it is time to fly to the Shetland Islands in the far north of Scotland to witness one of the baffling festivals of the millenium. For 24 hours ceaseless, on the last Tuesday of January, the town of Lerwick goes crazy. Up-Helly-Aa is said to be the largest fire festival in Europe,and is a way to pay tribute to the islands? Viking. On this day, a procession consisting of thousands culminates on the streets to view the burning of a 32-feet replica of a Viking longboat. This rejuvenating adventure takes one into the remote, wild and stunning Shetland Islands. Well, there will be no postponement despite the bone chilling winter. That's a defiant boast indeed!
The Monkey Buffet Festival,(Thailand)
Are Monkeys worshiped? The answer comes in affirmation. Not only this, a gala festival is also organized every year in Phra Kan and Phra Prang Sam Yot in Thailand in honor of monkeys popularly known as the Monkey Buffet Festival. As per estimation, approximately 600 monkeys attend the annual feast in Thailand as they are said to be the direct descendants of the monkey lord Hanumanin India. They savor on a platter of tons of vegetables and fruits. Well, few would be astounded to know that Hanuman(the Monkey King) is widely worshiped in India but the mythical significance flutters even in Thailand. Mind boggles envisaging the strange connection.. Right!
Roswell UFO Festival,(USA)
Legend has it that an alien spacecraft crashed in the desert just outside this quaint -sleepy town of Rosewell in 1947. Hopping came out extra-terrestrial beings, some still thought to be alive and mingled amidst us, who were supposedly found at the crash site and their wrecked flying saucer squirreled away for secret analysis. Whatever may be the case there should be a reason for celebration..which goes on in Roswell. UFO fans from all over the globe converge each year to broaden there sphere of knowledge on aliens and extra terrestrials. Join the alien brigade or groove to the music of the world's only alien drummer in the traditional heart of the mystery country. La Tomatina, Spain This festival in Spain assigns a new meaning to the expression 'playing with your food'. For most of the year Bunol in Spain is a city lying dormant unknown to the World. You just need to step in this magical city on the last Wednesday of August, and see the town's streets turning into a salsa riot, with over 20,000 ranters pelting each other with large, red, squishy tomatoes. Truly, pulse rate escalates witnessing these bizarre and weird festivals around the Globe..So what's the wait all about ....Pack your bags and be a part of the phenomenon....