contact agent
enquire now
About Madagascar
Madagascar might be considered a part of continent of Africa but there is nothing African about Madagascar. This island country is unlike any other country of Africa, or should we say unlike any in the world. It is here that nature started its experiments with life. Hard to believe but evolution here is said to have started some 160 million years before any place else on earth. Situated hundreds of kilometers away off the eastern coast of mainland Africa, Madagascar covers an area of nearly 587,040 km2. With this huge area, it is the fourth largest island in the world. The country is divided into six provinces namely Antananarivo, Antsiranana, Fianarantsoa, Mahajanga, Toamasina, and Toliara. You will see the most odd shaped plants and dizzying number of animal species in Madagascar. Believe it or not, there are more than 70 varieties of lemur that can be seen here. It is home to the largest and also the smallest varieties of chameleon and is the last place on earth where the gigantic elephants birds lived. This is the very reason why Madagascar is of the highest priority in conservation area in the world. The landscape too is laced with some wonderful waterfalls, caves and vast national parks. For tourists who are looking for more than just nature's magic, the culture that still strains a lot on the supernatural and unseen, is a refreshing change. The people too are quite friendly and polite. Be a part of their traditional ceremonies which will give you an insight into what their perception of the life is. For a hassle free vacation in Madagascar, a tourist better get acquainted to remembering long and complicated names. Antananarivo is the capital and the largest city of Madagascar. Also known as Tana, it is situated right in the center of Trinidad island. Prime Minister's palace is the main architectural attraction of the city. Other cities of Madagascar are Andoany and Toamasina.
show more

expand_more
Places to visit in Madagascar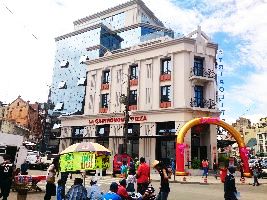 star 3.0 (1 Ratings)
Things to do in Madagascar
Madagascar Tour Packages

location_on
antananarivo, andasibe, madagascar
Madagascar Rating & Reviews
Trip Ideas of Madagascar

&nbsp
Planned A Madagascar Honeymoon Here Are Some Places That You Must Visit
Madagascar is not so popular among tourist but when we think about it the only thing which comes to our mind is the pristine coastlines, lush green forests and the French colonies. This place is less explored but the ones who have visited it will definitely want to be here again. It is actually heaven on earth. So for the newlyweds, Madagascar honeymoon is the perfect choice to go for. Given below are some places to visit in Madagascar.