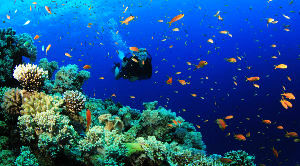 This 115 square kilometers island is just 57 kilometers north-east of Port Blair. The island has one of the richest coral reef systems in the world. It also has breathtaking beaches.

Its Radha Nagar beach was awarded 'Best beach in Asia' by Time magazine in 2004. The island is the excellent place for scuba diving. Its marine life is unique to this place. The best diving sites of the island are The Wall, Elephant Beach and The Lighthouse. Diving and the related training in the island is done professionally by Dive India. Bare Foot Scuba in the island is approved by PADI Professional Association of Diving Instructors.


Goa, the holiday capital of India is a heaven for adventure sports lovers too. The best months to enjoy scuba diving in Goa are from September to May. The diving here is usually done in 10-15 meters of range. The unique point of diving is that where are many shipwrecks to be explored under the sea. There are many institutes that provide PADI-certified diving in Goa.
Pondicherry has rich flora and fauna that can be explored by diving. September to March are the best months for diving. Temple adventures is one of the oldest and renowned names for scuba diving in India. There are others too. They all provide PADI certified diving courses.

Netrani or Netragudo is a tiny island in Arabian Sea. It is situated 20 kilometers off the coast from Murudeshwara, a temple town the state of Karnataka. The island has wide range of marine life including White and Black Tip Sharks.
Lakshadweep has unique and beautiful corals and water too is crystal clear. It makes Lakshadweep an ideal place for scuba diving. Agatti, Bangaram and Kadmat of Lakshadweep have world class diving schools. They have boarding and lodging facilities too making Lakshadweep a popular destination for scuba diving.