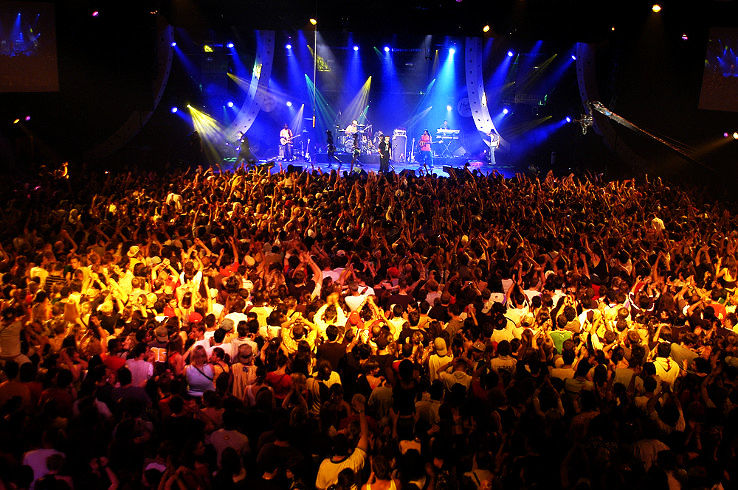 Music is said to be the soul of Life. What more could be asked for if we get to travel down the lane to some of the destinations reckoned worldwide for being hotspots for music fanatics. These venues orchestra thousands of concerts round the year and hold true significance for music lovers.
Parish Room , Austin
If you are real music freak and try out everything from Hip Hop to Jazz, Parish Room host a good musical programme with host of artistes from Smog, Guided By Voices, Autechre , Black Rebel to Motorcycle Club .
Grand Ole Opry, USA
: For its simple structure and globally appealing themes and lyrics, Country music occupies an intimate place in music lovers' hearts. The Grand Ole Opry House in Nashville, USA is a sort of paradise for country musician with USA's longest continuous radio show and the grand concert that has the honour to host some of the best names in this genre- Patsy Cline, Waylon Jennings, Hank Williams, Keith Urban and so on.
The Salon Rosada, Havana
: The city of Havana in Cuba is the place where music floats around in the air with the irresistible Latino flavour. The Salon Rosada in Marianao of Havana is the venue to be if you want to tap your feet to the beats of the Latin Jazz. Don't miss out on the exotic performances of Salsa and Rumba the rocks the dance floor.
Emo At Austin
: Interested in good live music, then Emo is one hub that provides a cutting edge music to all the music lovers. Located in 6th streets, Emo at Austin attracts all local and national musicians. Emo's has got great reviews from the visitors who are delighted to see it services and the decore.
Dakar, Senegal
: This is the birth place for a music style known as Mbalax. It is a cross-hatching of Latin and Caribbean music with African drumming. Apart from the music, Mbalax Dancing is very much popular in nightclubs and social gatherings.
Vienna, Austria
: The city of Vienna has always fascinated music lovers with its glorious musical past. Maestros like Strauss, Schubert, Haydn, Mozart, Beethoven, Brahms, Sch?nberg and Mahle have either spent some time here or made music in the soil of Vienna. Offering respect to these masters, Vienna hosts a annual performance season lasting from September to June. Classical music connoisseurs hunt down this event regularly.
London, England
: London is the motherland of Punk music and is a haven for Punk followers who truly believe that Punk is musical freedom. The live music venues with rocking scores keep London as a top of mind name when it comes to music and concerts.
Ibiza, Spain
: Talk of music and no mention of Spain; that simply can't be! The soothing sound of a Spanish guitar penetrates deep into our souls accompanied by some classy tunes. The island of Ibiza in the eastern coast of Spain has some pubs and clubs that is rekindling the traditional music forms with a mix of some techno beats.
Prague Spring International Music Festival
: This is an annual musical gala featuring famous international orchestras, operas, chamber music and symphonies. This event is a stable showcase for outstanding performing artists, symphony orchestras and chamber music ensembles of the world.
Gnaoua World Music Festival, Morocco
: The coastal town of Essaouira in Morocco is the home to this music festival where both local and international musicians showcase their art forms. Be here for some amazing rock, jazz, blues, contemporary and the traditional and ethnic Gnaoua music. The world is truly harmonized by music. A particular tone or a musical scale has the uniform effect on everyone, be it a black or a white, a Christian or a Jew. And a trip across these afore mentioned destinations will surely prove to be a sort of musical pilgrimage. These locations around our planet is home to excellent music. Start packing soon, the celebration awaits you with open arms.