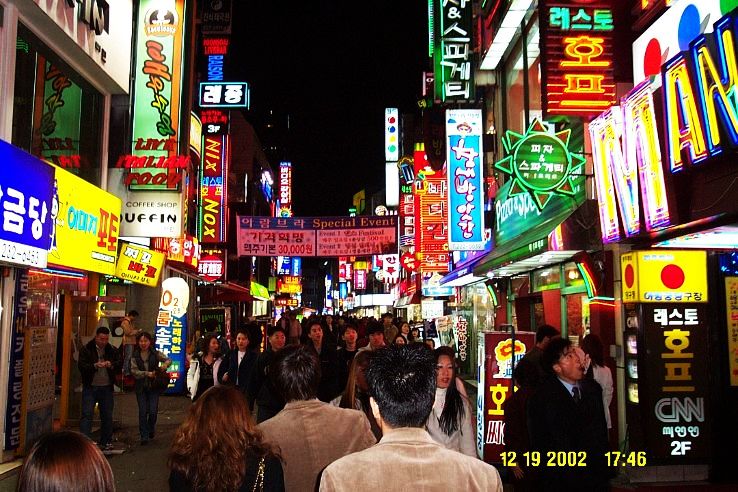 For shopaholics, Seoul proves to be unimaginable delight offering array of products to consumers. Come and have the best experience of all time in Seoul.
Myeong-dong:
Start your day by taking a stroll to Myeong-dong, located on subway line 4 identified for its star-studded plethora of top boutiques and departmental stores. All the items that are being sold here are highly-priced and thus defy to max out your credit cards. However, the nearby upscale shopping malls such as Migliore, Shinsegae and Lotte Department stores are also not behind in offering you something really great and thus add value to your money.
Namdaemun:
If the expensive Myeong-dong is not the one you looking for, then you can happily step towards the age-old traditional market of Seoul called Namdaemun, positioned at Namdaemun Gate (Great South Gate) on subway line 4. It has been established since 1414, sharing its nearness to Hoehyeon station, and is superbly outfitted with over 5,400 stores. Moreover, it being an utterly pulsating market, its vicinity is generally swarmed with over half a million shopaholics coming every day and its in-house shopping stores emerge as a worth-exploring dream destination.
COEX mall:
It was formed to underscore South Korea?s long-standing majesty and is acclaimed for being Asia?s out-sized underground shopping arcade extends more than 85,000 square metres. The mall lies in the propinquity to Samseong Station on subway line 2 and is highly looked upon by the visitors for being the centre of various shops and restaurants. Moreover, you can also explore international labels along with imposing aquarium, branded and non-branded items, two food courts, kimchi museum and a cinema multiplex, all are available under one roof.
Itaewon:
A must-see area of Itaewon, located on subway line 6 is accessible from the station of same name lures your attention by presenting you leathers, shoe stores, tailors, and striking jewellery of high-quality. It is undeniably a culturally inclined place having approximately 1000 shops from the U.S. Army Base to Hannam-dong over 1.4 km2. However, the company of a Korean interpreter along with your dealing skills with the shopkeeper will surely help you in getting brilliant bargain deals.
Yongsan Electronics Market:
Wander through the Yongsan Electronics Market which includes 20 compositions with over 5,000 stores, assuring to satiate your hunger of obtaining profit-making deals in electronics. The market is positioned on subway line 1 at the Yongsan Station and is renowned for giving you flat 20% discount on local products and 50% on international brands.