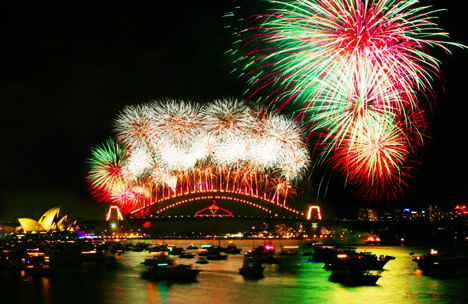 New year celebration is like a rage which gushes the adrenalin of the people to the highest. The fever trots the globe with an undying spirit. Well let us discuss some of the mammoth celebrations going worldwide.
Las Vegas
Las Vegas is not to miss place during the biggest party of the year- New Year. New Year's Eve and USA are described by party makers as lime assimilated in water creating that tangy environment with spirits ushering high. People pour out from the casinos onto the streets kicking off the euphoria.
Barcelona
Don't dare to miss the all-night New Year?s fiesta if in Barcelona, Spain! The onset of 12 am sees the race of friends pushing grapes unto each others mouth. One for each stroke of midnight. The panorama lasts till dawn.
Rio Brazil
It's not just for carnival Rio Brazil also witnesses house parties which give way to massive celebrations on the beaches, some 5 million people enjoying their party to the fullest. At Copacabana Beach alone, 2 1/2 million gather on the sand . This is indeed an extravagant beach front spectacle, unfolding along the Copacabana beach.
Prague
One of the loveliest and world's most beautiful cities attracts people from all over the world. Prague is an awesome place to play the gala night and it literally explodes. Climbing uphill the Prague, Czech Republic Castle or the "Stalin statue, one sights the amazing fireworks against the snow laden backdrop of the city. The sight is truly beholding!
Edinburgh
This Scottish capital in United-Kingdom plays centrestage to one of the biggest New Year parties of the world.
Miami
Much like its varied culture, variety is the spice of Miami, Italy life for New Year's Eve. The winter chill keeps many bundled up indoors. But on this big eve South Beach in Miami is as hot as ever and the talk is not just about the weather but the enthusiasm and aura of excitement that arrays in the mood of the folks.
New York
To feel that ultimate exotica of new year there?s no better place to be, than in the center of the New York City, USA. Well, it is said this city of sky scrapers never sleeps. Times Square houses the most awaited ?ball drop? which has a history of 103 years.
Sydney
And how can we forget Sydney? It's the place where the new celebration actually begins, before any other part of the world. Sydney, Australia earns the accolade across the globe hosting one of the ultimate New Year bashes. What could be more alluring than playing with fireworks! Bursts of dazzling colors explode over the Sydney Harbor Bridge and over the Opera House?s scooped roof. It's the only time when one finds no dearth of time lag and everything comes to a stop still.