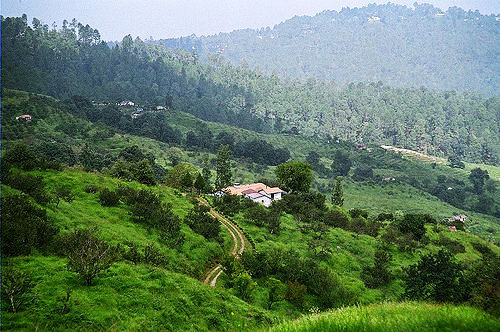 Boiling summers are on head. Everyone is trying hard to get rid of the scorching heat of sun and breathes fresh and cool air. A very cool and sensational solution to that is a vacation trip to India, where visual treat for many eyes, luxury resorts are erected amidst luxurious hilly stations guiding you the world of contentment...
Apple Country Resort - Manali
: Going to Manali in India that means you have taken a best decision of your life. Stay at Apple Country Resort in Manali which is meticulously decked out with lush greens and the captivating mountains. It is celebrated for its silent vales, bubbling creeks, the songbirds and the misty nature woods. Its appearance really seems to be a fantasy for humans that how sweet scent of apples, towering coniferous trees, flowering chestnuts and Deodar groves can actually covered something which is artificial, man-made and is just discovered exclusively to provide internal well-being. Once you are here, you will only think that time here stands still, spectacular snow ridge, religious lakes, possibilities of activities like hiking, mountaineering, etc. as well as ancient temples really make it more adventurous and place it right at the heart of fairytale Manali.
Koti Resorts - Shimla
: The ?Summer Capital of British India?, Shimla in Himachal Pradesh has always been the first and foremost name when anyone talks about an opulent retreat from killing heat of sun. Choose Koti Resorts in Shimla, known for providing you a pleasant escape from the humdrum of daily life. It is so because it has a phenomenal settings positioned just 30 minutes away on the Mashobra Naldhera Golf Course road towards north east of Shimla . The moment you reach there, it is certain that the spellbinding view of the Himalayan ranges and deep valley is really going to bring butterflies in your stomach. Moreover, the rooms are embellished with top-notch amenities designed like a Swizz Chalet in consummate togetherness with its natural vicinity gives you a welcome sense of privacy and serenity . However, apple orchards and deodhar forests solely make it an ideal retreat for a true family sojourn.
Pearl Hill Resorts - Ooty
: An added attraction of Ooty or Udhagamandalam.is usually identified as ?Queen of Hill Stations in Tamil Nadu. It is the the capital of Nilgiris district and is stocked with great family resorts that symbolizes " Blue Mountains?. Let?s take example of Pearl Hill Resorts in Ooty, which acts as a superlative weekend getaway for everyone. It satiates your crave to undergo the tranquility of long-walks-ways, lazy evenings and verdant verdure. Established in such a way that you will totally forget your home and make it your permanent abode that remarkably advocates healthy living in a perfect hill-station weather. Exquisitely an uplifting resort of Ooty, it flexes your stay with delectable cuisines, business conveniences, enviable rooms, as well as the lovely Ayurveda treatment harnessing natural elements to keep you able-bodied. Nevertheless, its unique touch encourages you to go back confidently.
Paradise Camping Resort - Kashmir
: Truly lucky in itself this Paradise Camping Resort in Sonmarg, Kashmir for being the 1st kind of accommodation for holidaymakers. It is a family owned and operated 63 acre resort, sited in alluring Garden Prairie, Illinois. It is a resort which is specifically composed for families and is completely en suite with great outdoor activity of camping. During your stay, you will be provided with Swizz cottage tents erected in Mother Nature with state-of-the-art facilities and round the clock customer service. Its distance from Srinagar is just 96kms and the way it is built that excites everybody to have an experience of virgin topography of the golden vale and a recreational spot the yatris on the wat to Shri Amarnathji cave. No need to question about pone trekking, sledging, rafting, shepherd houses with a fantastic image of Thajwas glacier, etc. are very much there to compel you by fascination.
Woodsvilla Resor - Nanital
: Last but really not the least, a perfect blend of calmness and tranquility in a fun-filled ambiance in Ranikhet, Woodsvilla Resort is unquestionably a splendid break from the couples. It is perfect for holidaying travelers in the Kumaon region and offers wide options to them. Woodsvilla is also recognized as the boutique resort, enclosed by a vast stretch of deodar and oak trees overlooking the majestic milieu of white-colored mount covered with sheer snow. Woodsvilla is a delightful victory of the promoters fantasy and gives you rich pleasures to observe colors change in the sky and romantic union amid the moon and the Himalayas. Hence, so far so good, this resort is a bliss on earth conferring affluent lodge to those outsiders who are looking for something easily affordable around Nanital in Ranikhet.