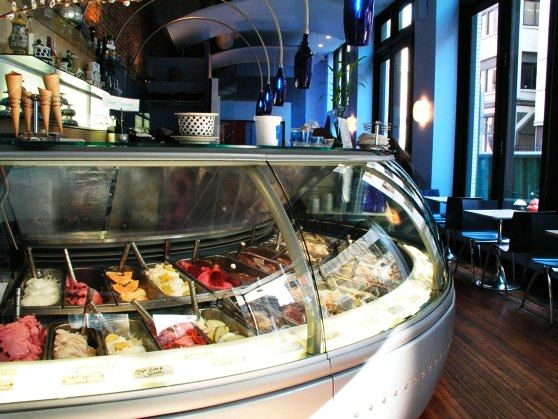 Ultimate Ice-cream feast in America is awaiting you to be served with flavors of sheer artistry and long-standing panache. It acts as a small portion of snack emerging as a cooling getaway from the deadly heat of summers.
Graeter's, Cincinnati, OH
: A small outfit started in southern Ohio, and northern Kentucky, Grater?s is a place where you can keep a check on chocolate chip ice cream with huge chips, together with quintessential turtle sundaes. It is a Cincinnati tradition, where families are served up with lovely ice- creams like mint chocolate chip and black raspberry chip.
Toscanini Cambridge, MA
: With diverse array of fans, incorporating the very popular Dalai Lama and Yo-Yo Ma, the Toscanini has been announced as the ?Best Ice Cream in the World?. It is worth for those who love to appreciate great extend of selection, which are divine such as black bottom, cardamom pistachio, pepper bourbon, chocolate, vanilla, strawberry and saffron. Sorbet and frozen yogurt are also not behind to excite you. However, coffee and espresso drinks are also on the list to fetch your attention.
Sibby's Organic Zone Ice Cream Parlor Viroqua, WI
: The list of top ice-cream corners in USA is partial, if you do not include an entry from ?America?s Dairyland?, which is Sibby?s Organic Zone Ice Cream Parlor. It is a place from where all ice-creams and waffle are hand-crafted in owner Sue Sebion?s red barn with the only help of organic local ingredients. Sebion epitomizes the desert as ?the official planet peace food? owing to its capability to capture your mind with positive memories.
Capogiro Gelato Philadelphia, PA
: Capogiro Gelato platters Italian-style ice-cream in the 11th most populated Philadelphia city in United States of America. It is the city of brotherly love where the tradition by making small and fresh batches of gelato every morning using ingredients from Pennsylvania farms. Additionally, old favorites of the city like pistachio and stracciatella are also very much in demand and are offered in routine with innovative flavors of green mango with chili and lemon opal basil.
McConnell's Ice Cream Santa Barbara, CA
: Truly commendable job done by Gordon F. McConnell as appeared with exceedingly interesting ice cream recipes and production techniques to overcome the injuries of World War II. It is a family-run parlor that still lingers on to brew rich, dense ice cream even after 60 years, emphasizing on use of excellent ingredients, especially cream from local dairies so as to make it more delicious.